Cal Lutheran's Proximity to the Entertainment Industry Allows Students Access to Valuable Career Resources, Including Internships in Film and Television Where They Gain Experience and Make Connections. Meet Five Recent Graduates for Whom the Film & Television and Multimedia Programs Have Paved the Way to a Rewarding Career.
FERNANDO RAIGOZA JR. '12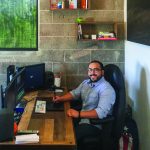 Senior Cutting Assistant at Arcade Edit
"I'm passionate about finding the stories in the edits. Finding where the thread is—that's the fun part. It's like solving a puzzle."
At Cal Lutheran, Raigoza—a multimedia major—interned at the up-and-coming production company Bandito Brothers. It became a baptism by fire! He did everything from offline editing to the finishing processes of online, mix, color and conforming. By the end of his senior year, he'd worked on his first major motion picture, Act of Valor.
Over the next five years, Raigoza worked as a compositor on The Hunger Games: Mockingjay–Parts 1 and 2, a VFX artist on Avengers: Age of Ultron and Captain America: Civil War, and more. He now works for a prominent commercial house and recently finished editing a global Adidas campaign in Amsterdam.
KRISTIANN JONES '17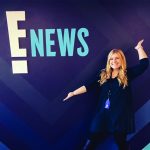 Post-production Assistant/Assistant Editor, E! News' Snapchat Show, The Rundown
"My current job allows me to work as a producer, production assistant, editor, graphic artist, writer or anywhere in between. Cal Lutheran prepared me for this by structuring the classes and projects to make me wear all those hats."
During her senior year, communication/ film & television major Jones worked
as a digital video intern for E! Online and Digital. She decided she would act more as a production assistant than an intern, working with the digital video team and the Snapchat Rundown team, editing bits and pieces, and making captions for the show. This led to a job offer as a production assistant for The Rundown right after graduation. Lately,
she has been diving into editing and recently edited her first Rundown segment.
JESSICA AMZOLL '07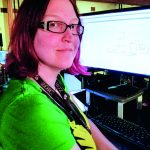 Visual Effects Artist at Zoic Studios
"You have to love it because it's a very demanding industry. You have to be able to see yourself in front of the computer at 4 AM throwing practical elements onto CG (computer graphics) because you've got to 'make something work' by
9 AM the next day."
Cal Lutheran helped place Amzoll, a multimedia/visual effects major, at Mechnology after graduation. She worked as a digital compositor—the last step on the VFX pipeline—for about 18 months, and then moved on to Zoic Studios as a roto/paint artist. Amzoll joined True Blood as a digital compositor and stayed with the show for 52 episodes. She also became a sequence lead on Once Upon a Time for several seasons, and worked on Homeland, The Get Down and Hand of God.
STEPHEN WARDLE '13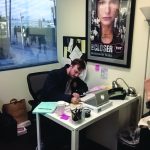 Script Coordinator, Why Women Kill
"Nothing can prepare you for what an actual production feels like—that hurley-whirley monstrosity must be experienced to be understood. Working on campus films, though, taught me a lot about the different jobs on a set and gave an understanding of how they work."
After graduating with a communication/ film & television major, Wardle did a three-month unpaid internship at a tiny production company in Silverlake called Imaginaut, where he did a great deal of editing and production assistant (PA) work. The company hired him for quite a few gigs following the internship. Wardle did a lot of networking, as well, and one of his meetings turned into a four-year job as a PA, and later as a script coordinator (SC) for Major Crimes, until it was cancelled. His contacts at Major Crimes hired him as an SC for Tell Me Your Secrets and Why Women Kill.
BIANCA RAY '14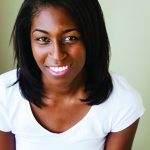 Post Production Coordinator, Blackish (ABC)
"At Cal Lutheran I gained a solid under- standing of the filmmaking process, from writing to editing. Knowing my way around a camera, lighting equipment and editing software allowed me to lend a hand on smaller projects when looking for my next film or television job."
While a student, Ray, a communication/film & television major, completed a research project with faculty mentor David Grannis to track the prevalence of exclusionary practices in casting films and to find con- tributing factors. They viewed top grossing films between the 1930s and the 2000s, charted characters with a distinguishable speaking role, and noted their importance in the film, their race and their sex. Film in- dustry professionals and scholars were also interviewed. Findings suggested changes in marketing strategies and evolving culture will allow for more minority representation.