Faculty From the College Are Constantly Interacting With This Dynamic City — Enhancing Their Pedagogy by Utilizing l.a.'s Rich History and Resources. Here Are Just a Few Recent Examples of How the Learning Experience for Students in the College's Programs Has Been Expanded by the Campus' Proximity to Los Angeles.
Dia De Los Muertos: Understanding Tradition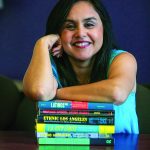 DR. CYNTHIA V. DUARTE
Visiting Assistant Professor of Sociology
Director of the Sarah W. Heath Center for Equality and Justice
Professor Cynthia Duarte takes her classes to community events that honor Dia de los Muertos. Her favorite is held in downtown L.A., where artists from dozens of community groups create altars throughout Grand Park. Many of them portray social justice themes, such as deaths along the border, gang violence or police brutality. Others honor celebrities and lost loved ones.
"We look at the art and media created by Latinos, for Latinos,
and how it differs from how mainstream media has historically portrayed Latinos," said Duarte. "Students learn about the history of Dia de Los Muertos in the U.S. Rather than seeing it simply as the Mexican Halloween, they learn that when the tradition was brought to Los Angeles from Mexico in the 1970s, it became more of a public celebration of identity, politics and social concerns, alongside the personal and religious traditions to honor those who have passed."
Tujunga Wash: Connecting Community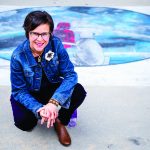 DR. COLLEEN WINDHAM-HUGHES
Associate Professor of Religion
Every fall, Professor Colleen Windham-Hughes
takes students to Los Angeles to grapple with issues surrounding poverty, homelessness and the struggle for civil rights. This past year, she partnered with English Professor Carlos Castellanos to take students to the Great Wall, a half-mile long mural painted in North Hollywood's Tujunga Wash. Designed by Judy Baca, it was painted by 400 young people in the 1970s and 1980s and places emphasis on the often overlooked history of California.
Two weeks later, Baca came to campus to talk about connections the young artists made while they worked together, and showed photos of their process with the art and the community. "Baca encouraged us in our dream of creating campus murals, which reflect our community values and tell the stories of the people who are Cal Lutheran," Windham-Hughes said.
In the future, she would like to spend a full week visiting multiple L.A. spots. "That kind of plunge would energize our classroom work by making questions about religion, identity and society real and related to people we've met."
Mariachi: Alive and Growing at Cal Lutheran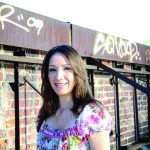 ROCIO MARRON
Mariachi Ensemble Director Music Department
Started as a student club in the spring of 2018, the Mariachi Ensemble inspired a music class, taught by Los Angeles- based musician Rocio Marron, solo violinist featured in the animated film Coco. The 15-member ensemble, under Marron's direction, performed winter and spring concerts on campus to enthusiastic audiences.
A virtuosic violinist and violist, Marron has had an active career performing live with such major artists as Marc Anthony, Los Lobos, Randy Newman, Usher and Jennifer Hudson. Her television appearances include the GRAMMY Awards, Saturday Night Live and The Tonight Show.
Marron will be tapping her L.A. music network to enrich the ensemble. "I plan to bring professional musicians to campus as guest artists and coaches in the fall."
The ensemble was founded by Valeria Garcia '19, a passionate Mariachi musician for more than 10 years. "I created the group so that I could continue learning and performing mariachi, which is part of my Mexican heritage and identity," she said.
Music Industry: Focus On Entrepreneurship
Recognizing the shifts in the music industry, Cal Lutheran is establishing a Music Industry Entrepreneurship program that leverages its L.A. location. "Cal Lutheran's geographical proximity to Los Angeles is a strategic advantage for our students," said Peter Gordon, Director of New Initiatives for the Music Industry. "It gives us access to a deep roster of inspiring guest artists and masterclass speakers."
Two new initiatives, a Women in Music Forum and a Summer Songwriting workshop, were established last year to enhance the program. The "Women in Music" event brought together a renowned panel of eight female music industry professionals to discuss career opportunities and challenges. Panelists included a senior VP of music for ABC, an Emmy award-winning songwriter, an award-winning music supervisor, a VP of creative licensing, and other singer-songwriters and recording artists. The Summer Songwriting Workshop featured a roster of award-winning L.A. songwriters and producers as mentors and guest speakers.
The Fall 2019 semester will feature the second annual Women in Music event and an interfaith concert with the renowned Los Angeles-based Yuval Ron Ensemble.