POLITICAL SCIENCE
ALEXIS RIZO '21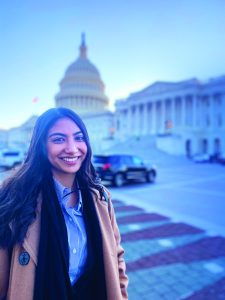 Major: Political Science—Law and Public Policy Emphasis
Hometown: Oxnard, CA
Post-Graduation Plans: Graduate school in public policy after working in environmental justice advocacy and volunteering overseas
"I've always been drawn to community engagement, empowerment and service, so I study political science because it has fundamental roots in community development. Cal Lutheran's program takes students into the field and also makes studying abroad very doable."
Study abroad & D.C. Internship: Rizo studied abroad at the Universidad de Granada in Spain, where a politics class deeply expanded her knowledge of the European Union. She also did a full-time internship with Senator Dianne Feinstein on Capitol Hill, where she attended congressional hearings and briefings and conducted research for legislative staffers, giving her new perspective on how legislation passes through Congress.
Research with Haco Hoang, PhD, Political Science: Rizo is excited to be conducting research on an environmental justice project in the predominately agricultural and Latino community in Oxnard, where she grew up. Using data of pesticide exposure in local farmworkers gathered by Dr. Hoang and Grady Hanrahan, PhD, Chemistry, Alexis is helping bring awareness, education and justice to this environmental issue. The project has special meaning to Rizo because her grandfather, as part of the United Farm Workers, advocated for farmworkers' rights in the 1970s and 80s.
A Favorite Class: Women and Politics explored the complexity of women's race, ethnicity and intersexuality and how current public policies impact women globally.
---
PHYSICAL SCIENCE
JAVIER BERJON DE LA PARRA '20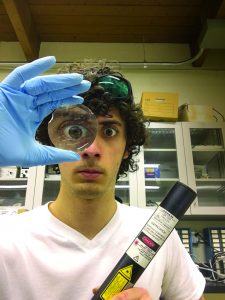 Major: Physics
Hometown: Aguascalientes, Mexico
Post-Graduation Plans: PhD in Optics at University of Rochester
"Physics is the primordial science that tries to understand and model the 'why?,' 'how?' and 'when?' of our universe. As a curious person, this everlasting quest for answers drew me to physics. At Cal Lutheran, the physics department gave me the instruction and opportunities to become a great experimentalist through numerous hands-on experiences"
PhD in Optics: Berjon de la Parra will begin his graduate studies in optics at the University of Rochester. With a reputation as one of the best optics schools in the nation, the University will provide Berjon de la Parra the opportunity to work and research in the Laboratory for Laser Energetics.
Research with Sebastian Carron Montero, PhD, Physics: Berjon de la Parra said the high energy physics research he engaged in at Cal Lutheran with his mentor Dr. Carron Montero encouraged his development as a student, researcher and person. One of the most exciting projects was designing the optics and adapting tests for new prototype detectors intended to be used in the upgrade of the Large Hadron Collider at CERN. He also had the opportunity to attend and provide data analysis for the Fermi National Accelerator Laboratory near Chicago. Last year,Berjon de la Parra was named a Rossing Physics Scholar.
A Favorite Class: Optics provided Berjon de la Parra experience with instrumentation builds, a strong understanding of the abstract nature of light and an advanced mathematical toolbox.
---
SOCIAL SCIENCE
JADE MOORE '20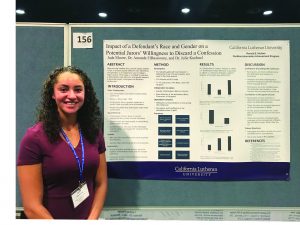 Major: Psychology
Hometown: Littleton, CO
Post-Graduation Plans: PhD in Social Psychology at UC Santa Cruz
"I've always been interested in what drives people to make certain decisions and act in particular ways. By understanding the driving forces, I believe that it is much easier to be sympathetic and tolerant toward everyone, even when you don't agree with them. I love Cal Lutheran's supportive and encouraging psychology professors who were instrumental in helping me get into a doctoral program."
McNair Scholars Program: As a McNair Scholar—a prestigious two-year program providing underrepresented, first-generation students with resources, guidance and support—Moore received funding for her first research project and her travel to conferences. She credits the program with helping expose her to the world of research as well as to graduate school possibilities. As someone who wants to make real change in the criminal justice system, Moore sees earning her PhD as a portal to that goal.
Research with Amanda ElBassiouny, PhD, Psychology: Moore joined Dr. ElBassiouny's research lab as a Culver Behavioral Science Research Fellow, and also completed an independent project with her on the impact of a defendant's race and gender on a juror's willingness to discard a confession. They are currently in the process of getting it published, and Moore also expanded the project for her honors' thesis.
A Favorite Class: Psychology of Prejudice and Discrimination helped explain to Moore a lot of the behaviors seen in everyday life that don't make sense at first, but actually have an underlining motivation.