Attempt number something, I lost my count by now. It's that thing where you want
to write something original, fun to read, not too shabby but each time you scribble you end up with something generic, redundant. My experiences as an international student might be different, may be useful however, one only watches the movies that are memorable to them and at this point I can't tell if the things that are memorable to me would have the same effect on everyone else. So here I am going back to something that may actually be helpful (My experiences would be a good ice breaker when we all meet for the orientation.) How to open an account as an international student. (Yup fun fun !!)
STEP 1 – Finding the right bank for you:
Well so you travelled to the US, started school and used the card you brought with you to pay for all the different restaurants you are trying, movies you are watching and groceries you are buying. If you are like my parents, they made you figure out everything beforehand which includes finding a card that can work internationally so you won't have to pay for the extra charges for international transactions. But what if you found a job on campus (Here you can find all the jobs on campus and here you can find the procedure to get a Social Security Number which would be the next step after you find a job.) For the paycheck to be deposited you need an American bank account. The first step to get an account is to find a suitable bank that will fulfill all your needs. Following is something I found that may help you decide the idle bank account for you.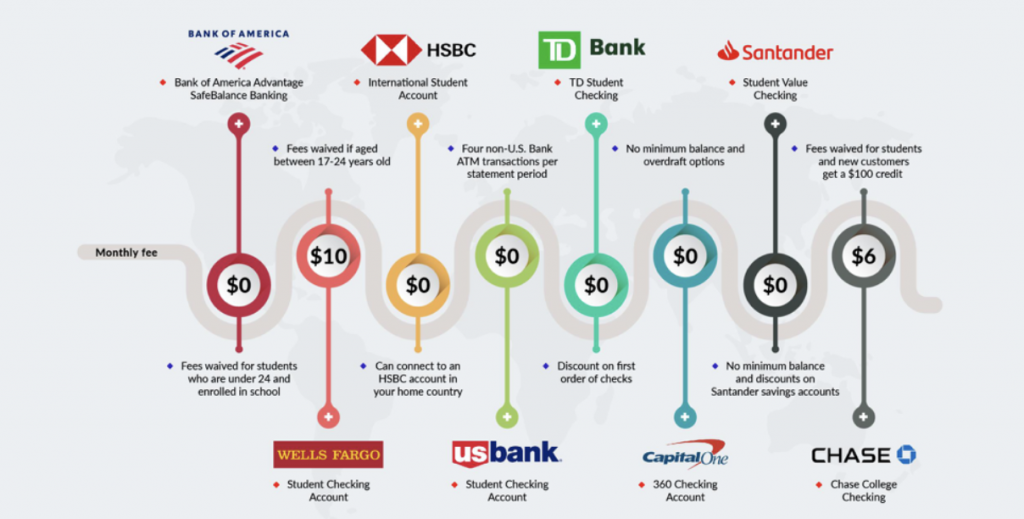 STEP 2 – Documentation:
Now you have finalized the bank for your account, the next step is to go to figure out the closest bank branch location near you which would be CLU. I opened my account in Bank of America in 2019 back in NY when I first moved to the US, so I will be using BOA as an example. You will find all the information for BOA international student accounts here. Due to the pandemic most banks moved all their processing online, however as an international student it's a better idea to physically present at the bank
location and provide all the necessary documents. (Yes, keep a bunch of copies of all the documents when you visit.) You may need the following information and documents for the bank account.
1) Home or permanent residence address:
This must include building name or number and street name, city or town, state or province, country.
2) U.S. physical address:
Only one of the following documents is needed:
– Government-issued ID with photo
– Student ID with address and photo
– Current utility bill with your name and address
– Other (rental agreement, etc.)
3 ) Primary ID:
Only one of the following documents is needed:
– Foreign passport with or without passport visa (with photo)
– U.S. Non Immigrant visa and Border Crossing Card-DSP-150 (with photo)
– Mexican, Guatemalan, Dominican, Colombian Consular ID (with photo)
– Canadian Citizenship Certificate Card (with photo)
4) Secondary ID:
Only one of the following documents is needed:
– Foreign driver's license with photo or U.S. driver's license
– U.S. student ID validated for current term or school year (with photo)
– Debit or major credit card with Visa® or Mastercard® logo
– Major retail credit card from a nationally well-known company
– U.S. Department of State Diplomat ID
– Mexican Voter Registration Card (with photo)
5) Foreign Tax Identification Number (FTIN):
An FTIN issued by a country other than the U.S. A U.S. TIN/ITN is not required unless you've been issued one. For me as I am from India, it was a PAN card. So, it may vary
from country to country.
This is the general documentation you would need, but it may vary from bank to bank. For Bank of America information you can go to this link.
Processing time for each bank may vary and you will receive the confirmation, your
debit card and other information from the bank through email after that. There will be some process to activate the card but it's just a minor thing and you are good to go. Also, keep track of your account number and routing number. You will also have to
update the routing number and residential address if you move to a different place than you provided on the application. Having the BOA or any other application makes all these processes quite easy. You can also submit the checks online and will not have to deposit it at the bank.
So, there you have it. Most things you need to know for opening a bank account. I feel
light headed, but worth it !! Looking forward to meeting and talking to you all who made it this far. (Which I personally would never have made it to…)
Happy travels and welcome to CLU !!!!!!