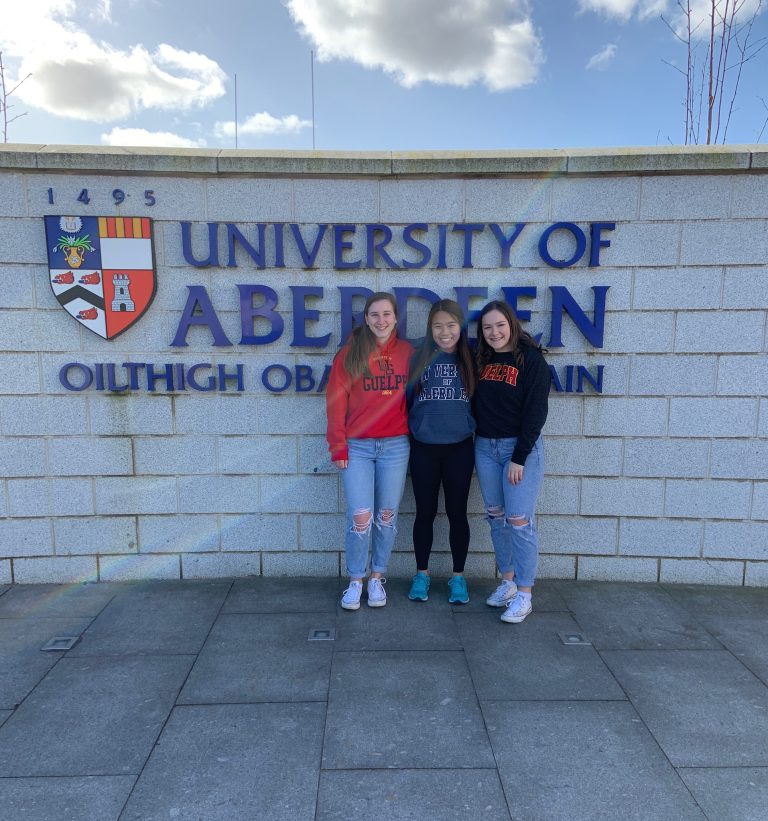 THE BEGINNING
Coming into college, studying abroad had never crossed my mind. The thought of leaving the U.S. for four months and venturing into the unknown alone made me nervous to even think about. However, I am so grateful I decided to take the leap into what turned into an unforgettable
adventure full of cherished memories, unique learning, and lifelong friendships. Even though my semester abroad was cut short by a month due to COVID-19, I wouldn't have traded the program
for anything. I met some of my best friends for life. I also grew as a person, pushing myself to do something I originally thought was out of my comfort zone.
The process was simple, thanks to the Cal Lutheran Office of Education Abroad, which helped every step of the way…starting with deciding what international program would be best for my major and my personal preferences. The office kept students on track with completing necessary documents, arranging travel, getting health insurance, finalizing finances, and having academic
credits transferred back to CLU. A few weeks before the semester abroad begins there is a pre-departure dinner that allows students to interact with alums of their programs for last minute tips.
Also, The University of Aberdeen has fantastic staff who kept in touch every step of the way with advice for admittance, travel, living, and academics. They were also on call once on site for any concerns, large or small.
ARRIVAL!
On January 1, 2020, I left LAX for the journey of a lifetime…through London to Aberdeen, Scotland. I immediately felt relieved that Aberdeen is friendly, comfortable, and easy to navigate. There were taxis in a queue to transport folks to residences, all easy to arrange. I personally arrived in Aberdeen a few days early and stayed in a small hotel in the city first, to overcome any jetlag, but also to familiarize myself with my new home. I noticed that because of the latitude, in early January it became dark about 3:30 p.m., but as the semester went on, the days became longer and more beautiful.
MY NEW HOME
– Wow! The flats (dorms) were so nice! Each unit had a shared kitchen and living room with five single bedrooms, each with a full bed, desk, shelf, and private bathroom!
– The University of Aberdeen conducts a one-day orientation for meeting fellow international students. There is a full day of information, activities, and social events.
– Walking and taking the bus are main modes of transportation. I liked the 20-30 minute walk to class through a park filled with other students. However, the bus is also convenient: students show their ID and transport to campus is free! After hours bus service to town has a fee, but it is minimal and can be arranged through a prepaid app.
– If you want to join a gym the University of Aberdeen has a great gym with a pool, tons of cardio
machines, free weights, machines and classes!
ACADEMICS
Because I was a sophomore, I took mostly Core 21 courses. There were many, many choices, but I ended up taking "How Should One Live?" (Philosophy), "Death" (Archeology), "Scottish Folklore" (Literature), and "Humans and Animals" (elective). However, there were also more specialized courses for those further along in their programs. The class structure in the U.K is a bit different than at Cal Lutheran: there are fewer assignments, each counting for a larger portion of the final grade. Even though that took some adjustment, I appreciated being pushed to learn in new ways.
OUT, ABOUT, and ELSEWHERE
I loved living so close to a safe city and being able to enjoy many aspects of Aberdeen by walking. My favorite memory (which I 100% suggest) was a weekend trip farther north to Inverness,
Scotland, home of the (famous but never seen) Loch Ness monster. I and some friends took a 12-
hour bus trip around Inverness the Isle of Skye. Not only was the scenery breathtaking but we
got to feed hairy "coos", view castles, eat fish and chips, and explore the beautiful coutrysides. From Aberdeen it is simple to visit other locations in Europe, and I took short trips to Milan, Italy and Budapest, Hungary. That said, I would have been just as happy exploring friendly, beautiful Scotland!
SUGGESTIONS FOR STUDY ABROAD STUDENTS: ABERDEEN AND IN GENERAL
Aberdeen Specifically
1. Groceries: Lidl grocery store is right down the hill from the dorms and quite reasonable.
2. Fish! For fish lovers, Scotland is home to inexpensive and fresh salmon!
3. Bedding and clothes: In Aberdeen city, Primark has bedding and other room necessities at decent prices. For Californians who do not have winter wear, this is also a good spot.
4. Phone plan: I went to the Aberdeen mall and chose the cheapest phone plan I found: 20GB a month for 15 pounds.
5. Finances: I did not get a European bank account; instead, I used a Capital One Student Journey card (just look for a credit card that does NOT have foreign transaction fees because those add up!) I also suggest (if possible) getting a credit card with the tap feature because it easier for buses.
6. What to pack: I recommend bringing no toiletries (except of course necessary medicine). Most toiletries can be easily purchased at pharmacies such as Boots.
7. Sundays: Most establishments are closed on Sundays (in Aberdeen and throughout Europe).
General Thoughts for Anyone Going Abroad
1. Go alone → you WILL make new friends (everyone abroad is looking for friends. Push
yourself and get ready to meet new friends who will become best friends very quickly). Traveling with someone from your home university can limit your outreach to new people.
2. Budget! → Money WILL go fast. Budgeting will help you stay on track. That said, allow yourself to budget for fun activities too 🙂 Live like the Europeans and buy food for one or two days only so none goes to waste. Also, spend money on experiences and not stuff.
3. Explore your host country → I regret not venturing into Scotland more; I hope to return one day and finish my journey
4. It is possible financially → Don't rule out studying abroad because you are afraid of the cost. Cal Lutheran's Office of Education Abroad can help with resources and guidance.
ONE FINAL THOUGHT! GO ABROAD!
It will be the BEST decision you ever made. Thereare many people who look back years later and are sorry they never studied abroad in college. BE the person who took the chance!